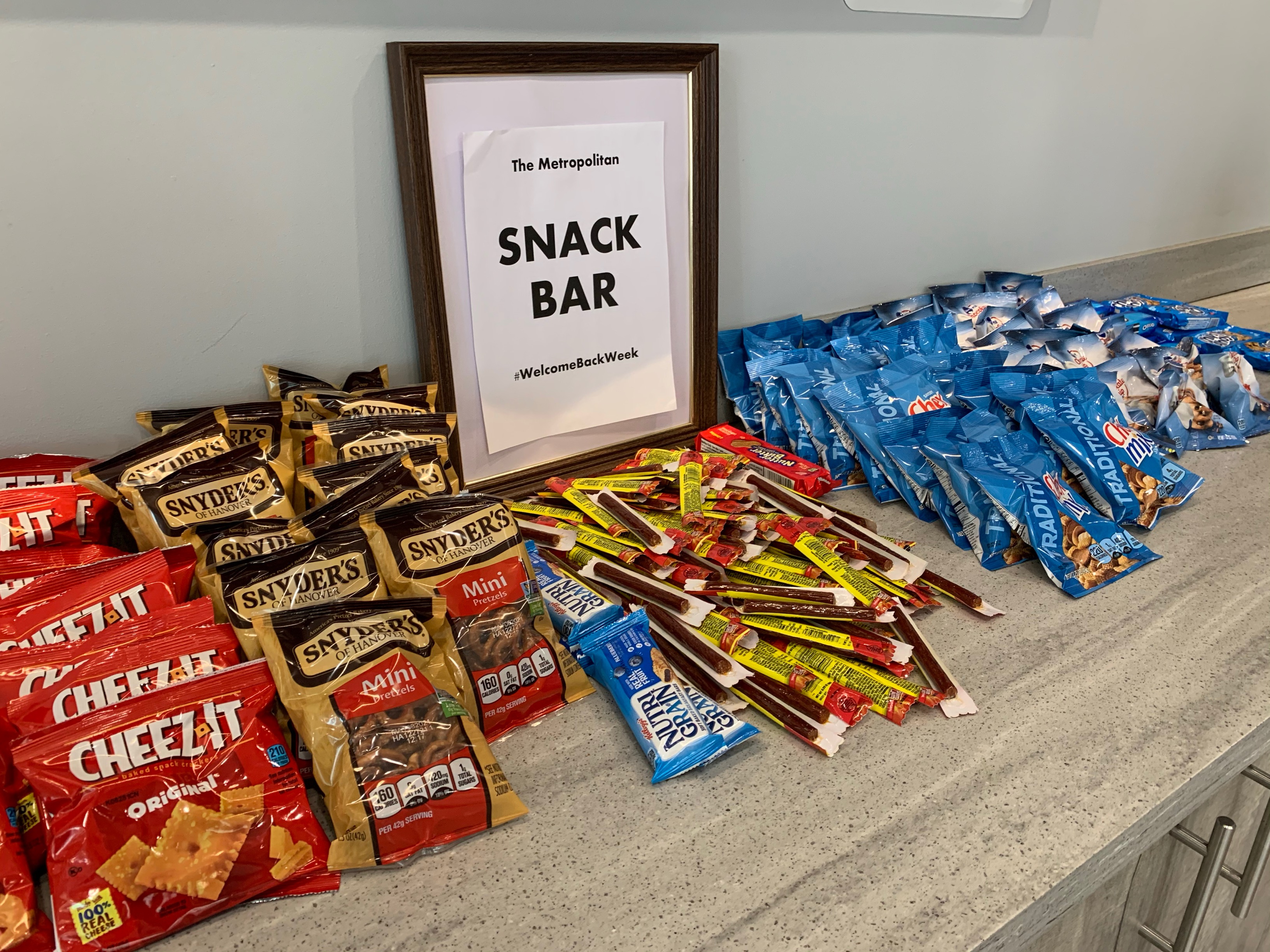 ---
We here at The Metropolitan at State College missed our residents over the holidays and therefore wanted to be sure that upon their return they would have a fun week back!
To kick start the week, on Monday we provided the Residents with a SNACK BAR! They really enjoyed the grab & go options we provided as many were preparing for classes to begin. Residents were pleased to walk into the lobby and see snacks waiting to welcome them back!
As the week went on, the events became more and more popular. We noticed that Residents were looking forward to knowing what was coming next, and some would even come down right at opening time to ensure they got the best pick!
On Tuesday we had a DESSERT BAR and provided DUCK DONUTS from a local bakery in the town of State College, Pennsylvania. We love supporting businesses in the area, especially during these trying times. These melt in your mouth donuts paired with coffee was the perfect kick start to our residents' day! Our Dessert Bar was definitely one of the most popular events of the week.
On Wednesday we created a DRINK BAR filled with Coca-Cola bottles, waters, juices, and many other fun drinks. We had a lot of foot traffic on this day as residents came down to grab complimentary Starbucks Frappuccino's, energy drinks, sodas, and more!
Our residents are the sweetest and therefore on Thursday we provided them with The Metropolitan at State College's logo to show our appreciation.
On our last day of welcome back week, we had . We had a 6ft SUBWAY sub, chips, and drinks for our residents to grab a bit to eat. We saw a lot of excitement around this event - our SUBWAY sub was a hit with everyone who walked through our lobby!
We love seeing The Metropolitan at State College Community happy, so this week was just as special and rewarding for the staff as it was for our residents!